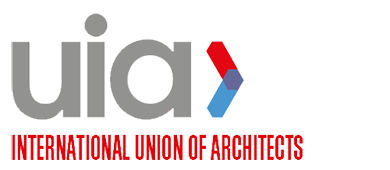 UIA COMPETITION27 SEPTEMBER 2021
2022 UIA YEAR OF DESIGN FOR HEALTH
In July 2021, the UIA General Assembly declared 2022 the "UIA Year of Design for Health". This commitment urges all UIA Member Sections to encourage architects and their clients to use evidence-based design to promote health in buildings and cities.

The UIA will facilitate a series of initiatives to increase awareness of designing for health, including a digital information hub, an international research agenda and support for the creation of resources to help architects around the world conduct research on healthy environments.

The Covid-19 pandemic has highlighted the importance of environments in controlling disease, the value of creating safe and healthy spaces for all people and the necessity of using evidence-based research to support design and related policy-making.
The UIA launches the logo competition for 2022: "UIA Year of Design for Health." The winning logo will be used for the branding and promotion of the UIA's year-long activities. 

ELIGIBILITY
This logo competition is open to everyone.
Any individual or team can make one or multiple submissions.
A team should not consist of more than 5 members.

PRIZES
First Place: 3 000 Euros and certificate
Second Place: 1 500 Euros and certificate
Honourable Mention (up to 5): certificate 

JURY
Wei Yew (Canada), graphic designer
Camille Vantrou (France), Communications and Strategic Planning at Agence Neth Paris
Warren Kerr (Australia), former Director of the UIA Public Health Group (2014-2017) 

TIMELINE
27 September 2021: Competition launched by the UIA
15 November 2021: Submission deadline
15 December 2021: Announcement of the winning designs
PROCEDURE
Please submit your submission on the UIA Prize platform.
Submissions made by email or post will not be accepted. 

INFORMATION See the competition brief here.
Competitors may direct questions to 

[email protected]

 with the subject line "UIA Year of Design for Health Logo Competition". For more information on the UIA Year of Design for Health, visit the UIA website.